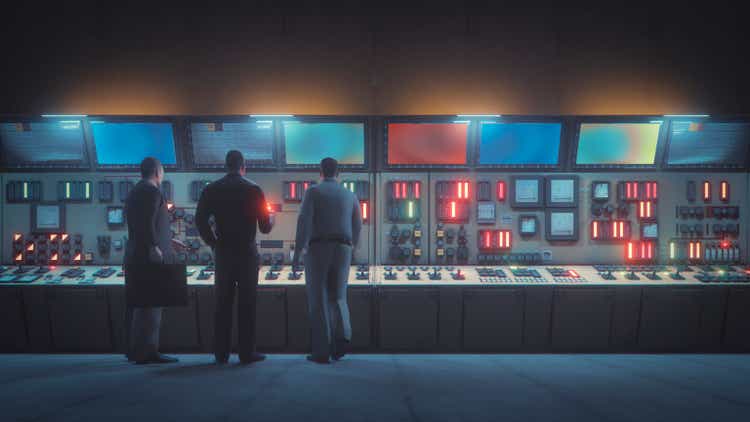 The last time I talked about Accel Entertainment (NYSE:NYSE:ACEL), a distributed gambling provider, was in June 2021 while still recovering from the Covid lockdown measures that had impacted service sector companies 2020. The recovery was subsequently slowed by the second wave of the pandemic in October of last year, as shown by the plunge in the orange sales chart, but the recovery has been nothing short of phenomenal with record sales of nearly $267 million for the third quarter of 2022 (Q3).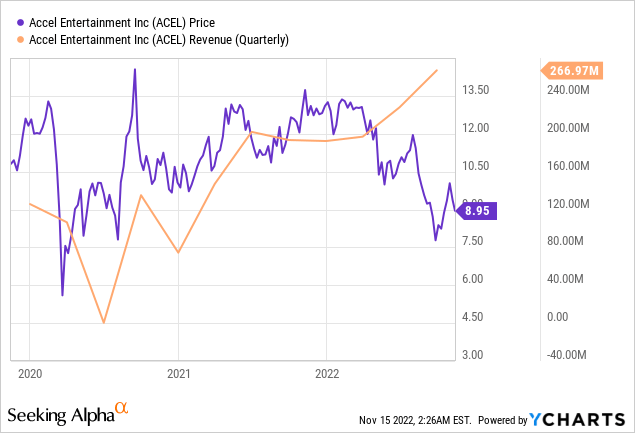 However, the share price shown in blue has not followed suit and remains well below the pre-pandemic high of $14 at $8.95. The aim of this work is therefore to assess whether an investment in Accel makes sense, taking into account profitability and the inflation dynamics prevailing in the service sector.
I'll start by looking at revenue growth across the gaming industry.
High growth amid bullish gaming industry
First, to provide some clarifications, the 38% year-over-year revenue growth for Q3 was primarily due to the acquisition of Century Gaming earlier this June, which added more than 8,300 gaming terminals across 900 licensed locations in Montana and Nevada. As such, as of September 30, the Company owned and operated 22,429 terminals at 3,517 locations in Montana and Nevada in addition to its home territory of Illinois.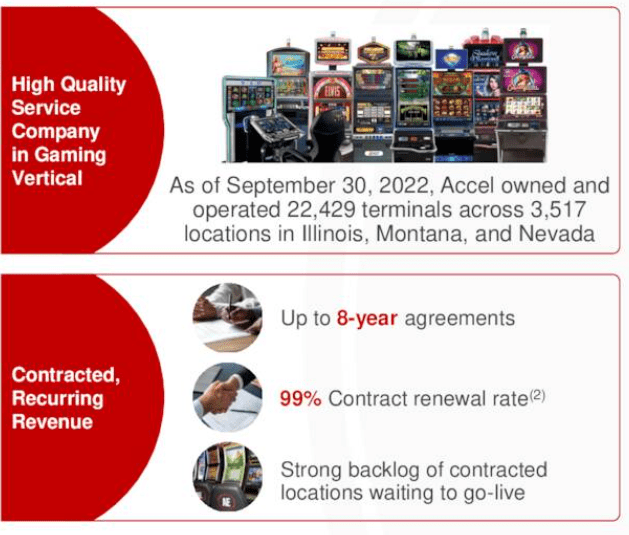 Organic sales, in the form of same-store sales, also rose 3% in the third quarter compared to the year-ago period. Accel's diversification efforts also resulted in two acquisitions in Nebraska in August, namely VVS, an amusement company based in Lincoln, and River City Amusements, based in Sioux City.
This expansion strategy remains well above the growth seen across the gaming industry. According to the AGA or the American Gaming Association, revenue from commercial gaming hit an all-time high in the third quarter and surpassed the previous record from the second quarter by 2%. The $14.81 billion in revenue also shows that the industry has not only recovered from its pandemic high of $11 billion, but continues to thrive.
However, there is also competition to consider and the fact that this level of inorganic growth could make bank borrowing more expensive, particularly during periods of high inflation with the US Federal Reserve raising interest rates. Therefore, it is important to examine the company's business model for potential risks and profitability.
The business model
First, as previous AGA data has shown, despite persistently high inflation this year, people have shown a tendency to continue spending on gambling. Also, for the sake of convenience, people tend to spend more at the local casinos of establishments they are already used to, like bars, rather than having to relocate to Las Vegas.
Looking at the process over the past ten years, Accel has developed partnerships with local business owners in every state in which it operates. These, in turn, receive incremental wins as more players use the slots.
Now, in the current macroeconomic environment where both inflation and supply chain issues have increased the cost of doing business, the company has been impacted by higher than expected cost of sales such as: B. Expenses incurred during the installation of new machines or the purchase of parts for equipment upgrades. As a result, gross margins have fallen to 29.74%, or 3% down from the same period in 2021, as shown in the table below.

Operating margins have also suffered, and the question is whether profitability will suffer as service sector wages rise.
In this regard, the partnership approach helps mitigate some of the higher labor costs, as Accel does not bear the operational costs of manning the slots, which are the responsibility of the local entities that have a revenue share with terms that are already pre-agreed.
To support my point, I make a comparison according to the table below with major gaming and casino operators Las Vegas Sands (LVS) and Flutter Entertainment (OTCPK:PDYPY), who have their own staff to oversee their gaming operations and to which they are more directly exposed wage inflation.
More specifically, these two giant operators enjoy much higher gross margins of over 60% compared to Accel's 31.54%. This is largely due to their much higher revenues, in the billions of dollars, across which fixed costs are spread. They are also much larger, as evidenced by their market cap, which allows them to benefit from better economies of scale, which in turn translates into cheaper unit costs for their slots. This in turn means lower cost of sales and higher gross margins.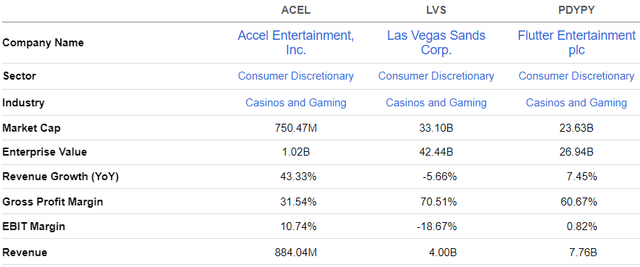 On the other hand, Accel's relatively higher EBIT margins show that it's able to control operating expenses much better than its two larger rivals. This confirms that the partnership model works with local entities on a cost-sharing basis. As a result, Accel incurs relatively lower site monitoring costs as these are borne by the local bars where its terminals are installed.
This gives the company a better chance of navigating an environment of increased cost pressures as wages in the service sector have to be steadily increased to offset higher consumer prices.
In addition, Century's technological capabilities throughout the gaming machine value chain should strengthen Accel's competitive position. Specifically, this means that now that its control has been extended from a gaming operator to the slot ecosystem, Accel should see a lower cost of sales as it saves on spare parts and related costs.
discussion and evaluation
As such, this is a company that prioritizes growth while the partnerships it has formed with local facilities help differentiate it from the competition. and should also help to alleviate the increased cost pressure. The company also has a highly variable cost structure, which has allowed it to adapt quickly to Covid lockdowns by drastically reducing cash burn and furloughing the vast majority of its employees, as well as slashing executive salaries. That was in the second quarter of 2020.
On the other hand, to fuel such high growth, Accel has been spending heavily, with debt reaching $521.4 million at the end of the third quarter. At the same time, CapEx has increased to $19.8 million from $7.8 million last quarter to fund investments in the Nebraska market and anticipate potential supply chain disruptions in 2023. This, in some ways, calls into question Accel's "capital-light" or low capital requirements. However, Nebraska remains positive and offers significant growth opportunities. In addition, the company generated $37 million in cash from operations in the most recent reported quarter, which translates to free cash flow of $17.3 million (leveraged), well above the $6.2 million in interest paid on loans.
Additionally, Accel's free cash flow margin of 7.18% compared to the median for the consumer discretionary sector beats the competition by a whopping 400%. Consequently, this is a stock suitable for investors looking for growth in the United States while still looking for profitability. As such, I value the company using its trailing GAAP price-to-earnings multiple of 12.32x, where it is undervalued by 6.87%, as shown in the table below.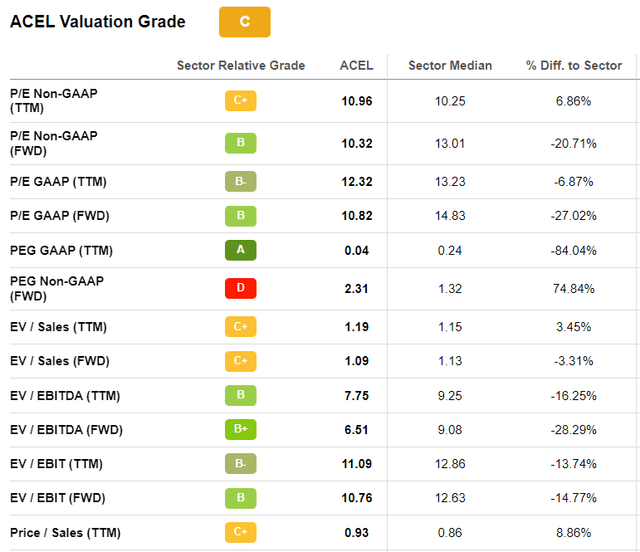 Adjusting this accordingly gives me a target of $9.7 based on the current stock price of $9. This stays a long way from the $14 mentioned at the beginning.
Conclusion
As such, this does not appear to be a high price target, but my more cautiously optimistic position is warranted given the current market exuberance, fueled by signs that inflation may have peaked, along with a signal that the US Federal Reserve is reducing inflation could hawkish sound. What is worth noting in this case is that only during the next FOMC meeting scheduled for December 13th and 14th will the decision on interest rates be known, and in the meantime it is better to exercise caution when investing .
As for Accel, this is a company that prioritizes growth, both organically and through acquisitions, but not at the expense of profitability. Its ability to partner with local businesses lends it an attractive cost structure, resulting in better operating margins than casino and gaming giants. At the same time, it has excellent cash generation metrics. All of this means a business model that can produce growth without sacrificing profit margins.
Finally, geographic diversification to increase the percentage of sales generated outside of Illinois is another positive, along with expansion into new industry verticals through the Century acquisition.