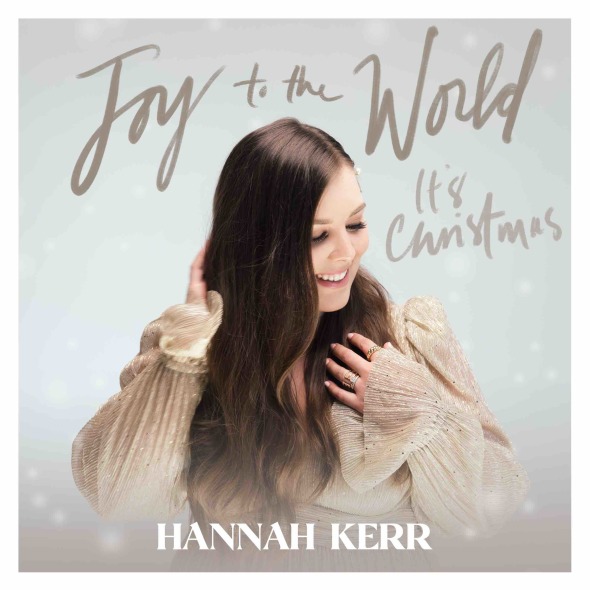 Nashville, Tennessee – Curb | Word Entertainment artist Hannah Kerr debuts a trio of Christmas carols today (11/18) with the official release of her three-track single "Joy To The World (It's Christmas)" – listen HERE. Also, a playful performance video for Kerr's reimagined version of "Sleigh Ride" is now available – check it out HERE.
On the three-track bundle, Kerr adds her warm alto to a traditional take on the seasonal classic "Joy To The World." The singer/songwriter's graceful, piano-led rendition of "Joy To The World (It's Christmas)," which she arranged with her husband Jason Earley, includes an original refrain that sends the song out to the lonely, the fearful, and the forgotten. Additionally, the multi-track offering includes Kerr's recently released reprise of "Sleigh Ride" and her wistful rendition of the nostalgic "I'll Be Home For Christmas." All three songs were produced by Mark Miller (Sawyer Brown, Casting Crowns).
This fall, the 25-year-old was on tour with Big Daddy Weave's "Only The Beginning Tour" alongside fellow singer Austin French. The 20-city tour is scheduled to conclude this Sunday (11/20) in Myrtle Beach, South Carolina.
Kerr is currently in the studio working on new music in collaboration with her new home label, Curb | word entertainment.
Stream or buy Joy To The World (It's Christmas) HERE. Visit www.hannahkerrmusic.com for tour dates and more information.
About Hannah Kerr:
Hailed by CCM Magazine as a "convincing" and "encouraging" artist, artist/songwriter Hannah Kerr released her Top 30 radio hit "Same God" in Spring 2021 and released "Grave" in Fall. With a total of more than 125 million streams, Kerr has released two full-length albums and two EPs, including her most recent release, Listen More, which was co-written entirely by Kerr and includes the Top 20 radio hit, "Split The Sea." Kerr debuted in 2016 with the release of Overflow, which has garnered more than 53 million streams and includes her Top 15 hit "Warrior" and her version of Matt Maher's Top 5 hit "Your Love Defends Me." "Your Love Defends Me" was co-written by Kerr and made her win the Most Played Song award at the 2018 ASCAP Christian Awards. Kerr has shared the stage with major Christian artists including Casting Crowns, Matt Maher, Building 429, Jonny Diaz, Matt Hammitt, FOR KING + COUNTRY, Newsboys and Kari Jobe. Hannah Kerr, a graduate of Belmont University with a degree in Christian Leadership, married songwriter/musician Jason Earley in March 2020. Kerr and her husband currently reside in Nashville, TN. Visit www.hannahkerrmusic.com for more information.
Over Curb | Word Entertainment: In 2016, Curb Records acquired Word Entertainment, combining two of the music industry's most respected global brands with more than a century of combined experience. Today, Curb and Word are two of the world's leading independent music companies. Owned and operated by Mike Curb, the Curb | The Word family includes the Curb, Word, Squint, Fervent, Sidewalk, MCC, and IVAV labels, as well as Curb Publishing, Word Publishing, 25 Live, Curb Films, Word Films, Word Entertainment, and Curb Sports, representing top artists and entertainers across country , Christian, pop, rock and hip hop. Visit www.curb.com for more information.